Gucci | How The Brand Is Shaking Up The Luxury World
Under the exciting new guidance of free-spirited creative director Alessandro Michele, Gucci are an Italian fashion house with a renewed sense of imagination.

Alessandro Michele has been working as a designer for Gucci since 2002. After impressing Gucci by completing the almost impossible task of creating an entire new collection in just one week, the Italian designer was appointed the new creative director of Gucci in 2015. Since then, Michele has taken Gucci on a journey of brand revolution. With an aim to disrupt the industry, his designs have been described as an explosion that changed fashion forever.
Continuing with a classic sense of Italian style, Gucci are still undeniably Gucci. Yet the brand now carries an unparalleled sense of ground-breaking creativity and highly influential ingenuity, seen across cross gender collections, unified fashion shows, history-making campaigns and firsts in the fashion world.
We take a look at some of their forward-thinking projects to see how they've shaken up the world of luxury labels and embarked on a journey of desire.
#TFWGucci Meme Project, March 2017
A campaign that tapped into our digital age and social media obsessions, Gucci's Meme Project was a meme-inspired campaign using the hashtag #TFWGucci – as in, 'That Feeling When Gucci…'.
Collaborating with artists, illustrators and meme heroes to create memes which featured timepieces from different lines, including the Le Marché des Merveilles watch collection, we loved this project and its tongue-in-cheek yet topical content.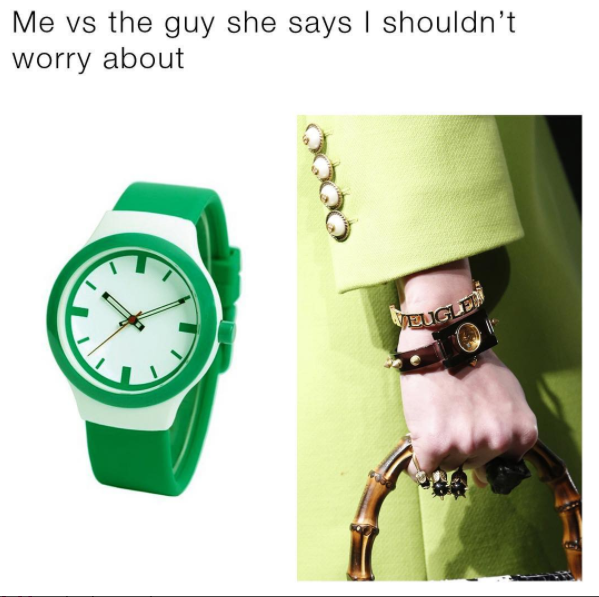 Gucci Ghost & Trouble Andrew, Fall 2016
A NYC-based graffiti artist, Trouble Andrew made a name for himself by branding items in his neighbourhood with Gucci's iconic double-G logo, documenting his movements on Instagram.
And whilst many creative directors and designers would distance themselves from artists copying their work, Michele did the exact opposite and invited Trouble Andrew to officially collaborate with Gucci. A few days later, Andrew was on a plane to Rome and co-designing pieces for the runway show.
Inspired by street art, with t-shirts scrawled with spray paint designs, loafers sprinkled with colourful stars and jewellery in graffiti-style ghost shapes, the Gucci Ghost collection is rebellious, contemporary and stand out.
"A symbol can be so much more powerful than words, unrestricted by language and appealing to our senses on many levels." Trouble Andrew
Unified Fashion Shows & Cross Gender Collections, Fall 2017
Gender fluidity has also been a significant focus for creative director Alessandro Michele, again tapping into the current cultural climate which demands equality.
Beginning with the Fall 2017 collections, Gucci are now combining their men's and women's runway shows into a single show. Michele believes that's the way the world should be seen; equal and without labels. In fact, Michele has always presented his men's and women's collections together.
Blurring the lines between men's and womenswear, Gucci's collections continue to be pretty much interchangeable, with all pieces perfect for any person of any gender and identity. Girls love the suits just as much as the boys are into the floral prints.
Gucci are certainly the current 'It' brand, helped by the creative spirit of Alessandro Michele and his ability to tap into the digital world and its trends.
Everyone from musicians and style icons like Florence Welch, Childish Gambino, Harry Styles and Alexa Chung are coming out in full force in the new imaginative Gucci collections.
For those who want the catwalk look, the Fashion Show Collection features designs straight from the runway, in keeping with the brand's quirky aesthetic.
Get the Gucci look in the most iconic way possible, with a statement accessory you can wear with every outfit.